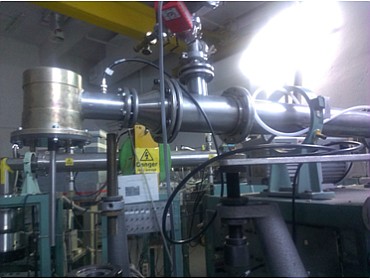 Experimental beam line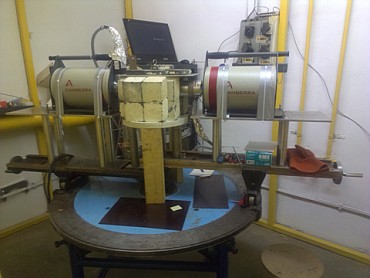 Counting setup
Contact persons: Tudor GLODARIU, Andreea OPREA
Majority of elements heavier than iron are synthesized via neutron capture processes known as s-(slow) and r-(rapid). However there are 35 p -nuclei along the valley of stability, between 74Se and 136Hg, that can't be produced by neutron those processes. These proton rich nuclei are produced by a combination of the (γ,n), (γ,p) and (γ,α) reactions on the existing s or r nuclei at temperatures around a few GK, characteristic of explosive environments.

To adequately describe the p-process nucleosynthesis, one needs reliable information on the thousands of reaction rates involved. In this respect, there is a considerable lack of experimental data on the relevant cross sections in the p-process energy range, because most γ -induced reactions are very difficult to measure directly. To overcome this difficulty, the charged particle induced reaction cross sections are measured and their inverse photodisintegration reaction cross sections are calculated using the detailed balance theorem. Experimental data for charged particle induced reaction cross sections are scarce above Fe. This is because for nuclei with Z>28 the energies of α -capture reactions are well below the Coulomb barrier, making the cross section very small and thus difficult to measure.

P-process studies are based mostly on the Hauser-Feshbach statistical model to predict the reaction rates which either over- or under-estimate the experimental data. Therefore, it is important to investigate the α -induced reaction cross sections experimentally to test the reliability of the statistical model prediction.

The main motivation of the present activity is to extend the experimental database by measuring with high precision the (α, γ) capture cross section on p-isotopes in the energy range close to the Gamow peak energy of each.

Activation technique consists in bombarding the target with α-particles to produce radioactive nuclei followed by the measurement of their specific activities after the irradiation has stopped.

The experiments are performed at 9MV Tandem Accelerator. The counting setup consists in two large volume high-pure germanium detectors (HPGe) with high relative efficiency (55% and 100%) placed head-on in a passive lead shielding. Due to the close detection geometry summing corrections are performed using the Monte Carlo simulation code GESPECOR.

References:
[1] I. Cata-Danil et al., Rom. Rep. Phys. 59, 1015 (2007).
[2] I. Cata-Danil et al., Phys. Rev. C 78, 035803 (2008).
[3] I. Cata Danil et al., Rom. Rep. Phys. 60, 555 (2008).
[4] M. Ivascu et al., Rom. Journal of Physics 55, 9 (2010).
[5] D. Filipescu et al., Phys. Rev. C 83, 064609 (2011).
[6] I. Gheorghe et al., Nuclear Data sheets 119, 245 (2014).